November 2021
Build Back Better (BBB) House Version- DOA in Senate
By Brett Scott, Vice President, Government Affairs
Overview: The House recently voted and passed their version of Build Back Better (BBB) Plan, this version is dead on arrival in the Senate and most likely will not be voted on till the end of December, before the holidays. More details of the breakdown in the bill can be found here:
Catalytic Converter Theft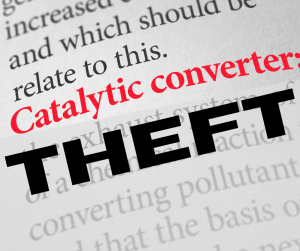 Members,
I am writing to you today to ask for your assistance in collecting some additional data points about the rise of catalytic converter thefts from dealership cars and residential vehicles.
WE ARE WORKING ON DRAFTING LEGISLATIVE LANGUAGE FOR A BILL TO BE INTRODUCED IN JANUARY 2022 TO ADDRESS THIS SUPPLY CHAIN ISSUE AND YOUR DATA AND FEEDBACK IS CRITICAL!! If you have experienced any of the following, please email me at dcardella@ciada.org with as much detail as possible.
Have any vehicles at your dealership had the catalytic converters stolen? If so, how many? Please describe the incident (location, date, number of cars impacted, projected financial impact).
2.Have you had the theft of catalytic converters reported to you, or have you heard about any of these incidents anecdotally? If so, how many and please describe the incident.
3.If you know the total number of thefts that you have experienced please include that data in your response as well (i.e. ABC Dealership has experienced 10 incidents of thefts since this issue began 18 months ago).
Thank you all, and please let me know if you have any questions.
This information will help us as we attempt to change this legislation.
Dave Cardella, CIADA CEO
---
October 2021
NIADA Government Affairs Report | 10/18/21
---
NIADA Government Affairs Report | 10/5/21
---
Government Affairs Report | October 2021
---
What Was in the Provisions that Passed the Ways and Means Committee?
The portion of the reconciliation bill passed by the House Ways and Means Committee on September 15th includes a lot of new tax provisions. Among them, are some significant taxes on pass-through entities and small business owners. Despite the mantra of "tax the rich," at least some of these provisions will hit a number of small business owners, many of whom would not be typically be considered rich, particularly hard…
---
September 2021
Government Affairs Report | September 2021
---
McCloskey commemorates 50 years in business by becoming new NIADA president
From BHPH Report Staff

SAN ANTONIO –
The new president of the National Independent Automobile Dealers Association is celebrating a significant anniversary, too.
During the 75th annual NIADA Convention and Expo, Joe McCloskey began his term as for 2021-22 by receiving the President's Ring; an accomplishment that has arrived during his 50th year in the car business.
The owner of McCloskey Motors in Colorado Springs, Colo., gave his inaugural address during the event's National Leadership Awards ceremony at the Henry B. Gonzales Convention Center in San Antonio.
McCloskey, who succeeds 2020-21 president Louis Tedeschi, said he is committed to improving NIADA's services to its members and advocacy for the used vehicle industry, as well as implementing the association's strategic plan.
"My priority is to work to unify all members, state associations and NIADA to join as one force to elevate our joint efforts to new levels of service to our membership and better protect the interests of our industry," McCloskey said through an association news release.
"I believe we can accomplish that by continuing to serve NIADA's renewed commitment to be the national association to all members, regardless of their size or business model," he continued. "We'll also continue to assist and develop the management of regional, state and local independent dealer associations.
"The NIADA Dealer 20 Groups program is an NIADA priority," McCloskey continued. "It's poised for amazing growth this year. Look for exciting things to happen with our 20 Groups and education programs. Our commitment this year is to make 20 Groups available and affordable for all dealers, regardless of their size or business model."
As NIADA celebrates its 75th anniversary as an association, McCloskey is celebrating his own milestone –
In 1971, a 13-year-old McCloskey got his first industry job — sweeping the garage floors at Bear Axle and Wheel in Pueblo, Colo. But it didn't take long for him to start moving up.
McCloskey was soon recruited by a Volkswagen/Mercedes-Benz dealership in Pueblo as what was then called a "lot man." By the time he was a 17-year-old high school junior, he'd worked his way up to selling cars.
McCloskey went into business for himself in the summer of 1989, but the first location of McCloskey Motors didn't exactly inspire confidence in his wife, Ann.
"We started in a garage in an alley with one light bulb and no phone," McCloskey recalled. "At the time we had four children and not much money. I showed Ann this sketchy garage in an alley. I flung open the garage door and there was one light bulb, hanging on a string.
"I told Ann, 'This is our future! This is the future of McCloskey Motors!' And being supportive, she said, 'Yes,' McCloskey went on to say.
That business has since grown to three locations in Colorado Springs — McCloskey Truck Town, McCloskey Imports and 4x4s and Joe's Car and Truck Repair — with some 80 employees and 275-300 vehicles in inventory.
McCloskey's operation has been honored by the Better Business Bureau for Excellence in Customer Service, has twice been named Colorado's State Quality Dealer and in 2013 won NIADA's highest dealer award — National Quality Dealer.
August 2021
From NIADA Legislative Liaison Brett Scott
Most recently, the SBA plans to outline a new initiative aimed at encouraging borrowers with loans of $150,000 or less — accounting for more than 90 percent of the pandemic-era program — to apply for loan forgiveness. The ability to convert PPP loans into grants in exchange for maintaining payroll was a critical feature of the small business rescue. Nearly 7 million of those loans have not been forgiven. The SBA has notified banks — which were responsible for issuing the government-backed loans and processing forgiveness requests — that the agency is setting up its own online, consumer-facing forgiveness platform. Rather than forcing borrowers to apply through banks, the SBA forgiveness site will accept applications from small borrowers directly in a format that officials estimate will take businesses just a few minutes to go through. Lenders will still have a say in whether individual PPP loans should be forgiven, but the intent is to reduce the amount of time and effort that banks have to invest in the process. In addition, the SBA will announce plans to spare certain borrowers who received second PPP loans this year worth less than $150,000 from having to supply documentation proving that they suffered a 25 percent revenue reduction in 2020 that was required to receive the aid. The agency has told lenders that it's using a combination of data sets to make the determinations, including information based on foot traffic and credit card charging.
July 2021
NHTSA Launches Interactive, Searchable Recall Dashboard
Website makes over 50 years of recall data easily available to the public
If you were not aware, NHTSA recently released a new cloud based recall dashboard to make searching for auto safety recall data easy and efficient. The dashboard offers user-friendly and transparent ways to sort, filter, visualize and export recall data.
Learn more HERE.