Since its inception, the National Quality Dealer has come to embody all that it means to be a dealer who is committed to quality, excellence, outstanding customer service, and to making their community a better place for everyone.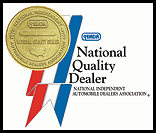 Guidelines as recommended by the National Independent Automobile Dealers Association to assist our national selection committee in making their selection of the NIADA Quality Dealer of the Year.
The basic qualifications for a Quality Dealer Nominee should be:
SERVICE TO INDUSTRY – "It is my belief: "Every man owes a portion of his time and money to that industry or business from which he derives his livelihood."
-Theodore Roosevelt
Candidates should meet the following criteria:
Be a member of NIADA in good standing and of the age 18 or older.
Support their respective state association through his/her dedicated service.
Support the NIADA through his/her dedicated service.
Demonstrate a willingness to be helpful in performing Association duties when asked by the various state and national association leaders.
Display a willingness to serve the Used Motor Vehicle Industry through helpful service to fellow dealers by sharing his/her knowledge, talent and experience.
Willingness to make a commitment to attend their respective annual state and national Conventions.
Have the necessary credentials to compete at the national level, since he/she will be representing their state association in a national competition.
OUTSTANDING BUSINESS OPERATOR – Dealer should be committed to offering exceptional services to customers, both during and after a sale. Always maintains the highest standards as they relate to employee and business associate relations. Dealer should be highly respected and enjoy a good personal and business reputation within their local community.
Candidates should meet the following criteria:
Have a minimum of five (5) years experience as a successful licensed independent dealer and member of their respective state association and NIADA for a period of no less than three (3) years. The candidate must be the 'Dealer Principle' or listed as the President of the dealership corporation.
Have a sanction free record with the state DMV and/or state licensing agency – have no outstanding or unanswered complaints with the Better Business Bureau or Consumer Affairs division of the state Attorney General's office.
Candidate's dealership operation should reflect pride of ownership and offer an attractive appearance of facility, grounds and inventory.
Candidates should have an outstanding reputation of good customer relations and the handling of customer complaints in an expedient manner.
Operate his/her business in accordance with the NIADA Code of Ethics.
His/Her dealership operation should be a credit to the independent dealer community of their respective state and the Used Motor Vehicle Industry as a whole.
Candidates should furnish several customer and employee testimonial letters, as well as business and personal letters of recommendation.
Extra thought should be given to those candidates who are NIADA "Certified Master Dealers".
COMMUNITY SERVICE – Affiliations and involvement in community affairs.
Candidates should be involved in the affairs of his/her local community.
Note: It is beneficial to all concerned for successful business owners to give something back to the community in which they develop their businesses and earn a living.
Additionally, experience has shown there is a great deal of satisfaction and personal reward in the giving of time, talent and money to worthwhile causes within our communities.
EXCLUSIONS: If a dealer/dealership has previously been awarded NIADA Quality Dealer of the Year, that dealer/dealership shall be ineligible to receive the award a second time.
2021 Quality Dealer Announcement
NIADA cancelled last year's national convention; therefore, the 2019 CIADA Quality Dealer of the Year, Red's Auto and Truck, will move to the 2021 Convention to compete for the NIADA National Quality Dealer of the Year award.
Read the Quality Dealer Award Guidelines
Download the Quality Dealer Award Nomination Application
2019/20 Quality Dealer: Red's Auto And Truck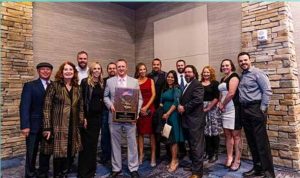 Mike Widhalm will be the first one to say that achieving this level of success takes a fantastic team; plus having multiple employees who have been involved from the first day, shows a commitment to excellence. Mike graduated from the University of Colorado with honors earning a bachelor's degree in business. Mike's first job out of college was selling cars, not for his father who had a dealer's license, but for another dealer so he could prove himself capable of being highly successful on his own. In 2006 Mike left the franchise side and joined with his dad to help run and operate the family dealership. Mike expanded the business selling cars as far away as Russia and Australia. In 2014 they left their Denver location to build a new 10,000 square foot store in Longmont with six service bays and a large indoor showroom to better service the growing customer base. A couple years later, Mike purchased additional ground across the street to accommodate more inventory.
Mike has been very active within CIADA serving in the Ambassador group and most recently as a Board member. In addition, Mike was appointed to the Colorado Motor Vehicle Board by Governor John Hickenlooper where he continues to volunteer as a valuable Director. He also has made many charitable donations to various Colorado charities including being a major participant with the Used Car Dealers of Colorado Charity Fund.
Mike's philosophy is "Do things right." He says "that when you do things right everything else is pretty easy and falls into place. When you do things right your customers, employees, and business partners will take notice and spread the word."
Congratulations to Mike and Meghan Widhalm and the terrific hard-working team at Red's Auto & Truck for being named the 2019 Quality Dealer of the Year by CIADA in cooperation with Regis University.
Past Quality Dealers
2019/20: Red's Auto and Truck – Longmont
2018: Stan's Auto Sales – Westminster
2017: Southwest Motors – Colorado Springs
2016: TSG Auto – Parker
2015: More-Skinny Used Cars – Pueblo
2014: Nevada Auto Sales – Colorado Springs
2013: Charlies Auto and Truck Sales – Northglenn
2012: McCloskey Motors – Colorado Springs
2011: Herbie's Auto Sales – Greeley
2010: Stan's Auto Sales, Llc – Westminster
2009: AutoTrek — Littleton
2008: Ertle Bros. Discount Auto — Sterling
2007: Centennial Leasing & Sales — Denver
2006: Highline Motors — Ft. Collins
2005 Family Trucks and Vans –Englewood
2003: The Car Show — Colorado Springs
2002: Valley Motors — Englewood
2001: Big Jon's Auto Sales — Longmont
2000: Smith Motors — Brighton
1999: Car-Tunes — Grand Junction